Last week, after living in Harlem for nine months, Rob and I finally took a Harlem walking tour to learn more about the stories around us. Based on our tour guide's informative presentation, I'd say that Harlem, with a history of displacement and replacement, could be considered the grandparent of gentrification here in the USA (even Rome gentrified, according to Wikipedia).
Originally home to the native tribe the Manhattans, Harlem was later colonized by the Dutch ("Haarlem") and has since seen a number of cultures and people, including a dizzying number of Africans and African-Americans forced in and pushed within and out of its bounds since the Great Migration. There was a direct correlation between its desirability and its hospitality, shall we say, to people of color.
Even churches got pushed around, like the Abyssinian Baptist Church, now located here in Harlem. According to Wiki, the Abyssinian Baptist Church
"…began after an incident in 1808, when visiting free Ethiopian seamen and allied African-American parishioners left the First Baptist Church in protest over being restricted to racially segregated seating. They named their new congregation the Abyssinian Baptist Church after the historic name of Ethiopia. Founded in 1809, it was the third oldest Baptist church in America."
The church moved to Harlem in 1902, along with many other African and African American people who were being forced out of the lower parts of Manhattan. Our guide told us many stories consistent with redlining practices at the time (legally enforced method which banned African Americans from getting loans to buy houses and would not allow mortgages on homes within African-American neighborhoods — great podcast on that here) including landlords who took matters into their own hands to overprice units or keep them vacant rather than rent them out to people of African descent.
Our tour guide did not talk much about the Harlem renaissance, but did take us to this wall that I can't find a name for, a sort of Harlem "wall of fame" off of Lenox avenue (coincidentally nearby the famous Lenox Lounge, where Rob and I saw a jazz show in 2012. It sadly closed down this year because the landlords increased the rent from $10,000 per month to $20,000.)
We loved the guide — he was very passionate about Harlem and its history and brought the streets we toured to life. He and I had a couple of side conversations, including one about Robert Moses (the guy who started out well-intentioned but morphed into a freeway-building neighborhood-dividing projects-creating madman) and clean meat (yum!).
I overheard our guide say, to another tour-goer, that he was tired of all this talk of statues, and it's important to preserve history rather than destroy it. I was quite surprised to hear him say that, given what we'd been discussing on the tour and his own unique perspective with an African and African-American parent, and wondered if he felt like there was any pressure for him to say that due to the mostly white tourgoers, or if he felt that the history did indeed trump (pun intended?) other ethical concerns.  Unfortunately I didn't have a chance to ask, but he was a very thoughtful person, and I'm sure we would have had a more in-depth conversation about the implications of retaining this particular type of history in public spaces if time allowed.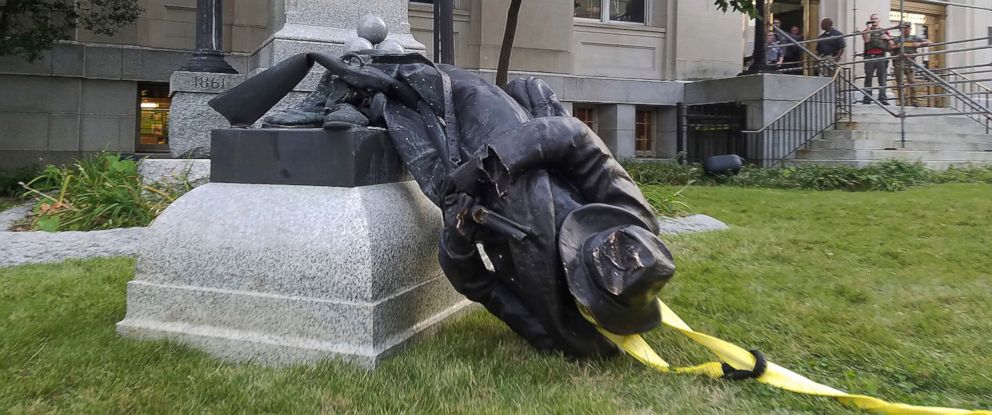 A little over a week ago, Durham protesters placed a belt around an old Confederate soldier statue (which sits in front of the courthouse, and is dedicated to the "boys who wore gray") and brought him down like a crumpled noodle.
My former neighbor Tia summed up the significance of Durham's statue toppling well in this article in the Atlantic (by our former tenant and super nice fella David Graham):
"'All those years, black people had to go to court, walk past this sign, and think you were going to get justice?' Tia Hall said."
I could not agree more. Statues that celebrate people and ideas whose sole purpose was to fight a war to maintain the enslavement of other people should not be placed in places to commemorate them.  In fact, a good friend Barry Yeoman provides an excellent historical backdrop for the statue debate in the American Prospect.
These confederate statues should be moved from Main Street to Minor Street. But does that mean we are erasing history? (Insert horror-face emoji.)
Not to worry, the solution for our statue problem is across the pond
Two summers ago, Rob and I visited Sofia, Bulgaria, as part of our European tour with Beloved Binge. Our friend Doug joined us, and we decided to check out the Museum of Socialist Art, located about a mile or two away from our central location.
While the museum felt very much like a graveyard for the failed communism experiment, it also contained cool statues commemorating everyday working people:
And other oddities like this one:
Even Vladimir Lenin, whose authoritarian policies were responsible for mass killings, has a home here in Sofia's graveyard:
Some statues wait on the sidelines, perhaps for future placement:
The above could potentially be the green room for UNC's Silent Sam. Might I suggest a replacement from Sofia for his likeness?
Rather than displacing people, we need to replace statues. It's time to thank Durham's activists for starting a revo-sation (revolution + conversation) that will lead to a more compassionate use of public space.
Museums are the ultimate storage unit. As our hoarders for history, they allow us all to live in our homes and breathe. Let's ship our confederate soldier statues to a museum where they can be recognized in context with the people they oppressed, not celebrated in glorified solitude.